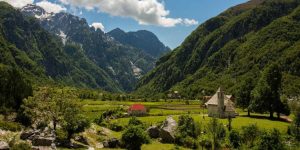 The Ministry of Culture in cooperation with IMK (National Intitution of Monuments) and other line institutions after a long work on the evaluation of cultural assets and important heritage centers throughout Albania has decided, on the basis of the fulfilled criteria, to give to Thethi the status of a Protected Historic and Culture Center, to this village of a rare beauty amidst the Alps in northern Albania.
The proposed historic center of Thethi valley is the part of the urbanistic and architectural values of the village and the space that carries important historical values, documenting the path of the historical development of the village towards the creation of an inhabited center and urbanistic-architectural features that were formed during his history. The overwhelming part of the village preserves old constructions of architectural and constructive value and characteristic roads network.
These constructions are linked to the traditional environment, which is part of the Historic Center. Within this center are included first-class cultural monumental objects such as Lulash Kec (Dukagjini's Ethnographic Museum), Nikolai Zef Koček Tower (The Tower of Conquest), etc.
In addition to these constructions, in this area are built dwellings that, although not large enough, are distinguished by the rich architectural elements. These constructions are more recent and widespread in limited areas, as in Thethi village from Dukagjin area or Vermosh village from Kelmendi area.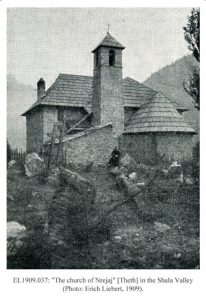 They share similar architectural processing. Characteristics of these elements are the very sloping roofs, covered with local pine tree boards. The introduction of wood elements along with the stone masonry, brighten up the appearance of the buildings, while the steep roofs harmonize with the rugged rocky environment and seem to repeat the contours of the mountain tops, which constitute the natural background of the buildings in Theth.
The architecture of the construction of apartments in Theth has changed for centuries, adapting to nature and climate. A prouf is actually the tower of Lulash Keqit, which is the Dukagjini Museum, and the isolation tower, ex Zef Koceku's house. There are some photos of the 1900s – 1925 where the roofs were flat and over time they became steep because the house was threatening to fall in from the great winter snow.
At DCM no.733 dated 08.12.2017, was not included all the village, where it results that two very important parts of Thethi, Grunasi, which included two of the most beautiful destinations of Theth as the Waterfalls and Grunasi Canyon as well as the Okol neighborhood, which is a beautiful up part of the valley, and the Sadri Luka tower which is a living museum mentioned by Edith Durham, the english writer. So, we can say that Thethi's map was violated by this DCM. We hope in a mistake from the government side and not to hide any interest of a malicious person as it often happens in Albania.