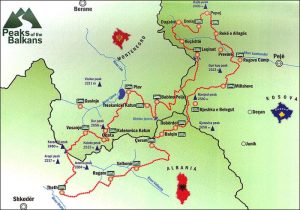 Getting here
If you already have booked for accommodation in Thethi you have now to think about transfer there! The road from Shkodra to Thethi is 72 km long where the last 15km are not asphalted and the normal cars are not reccommanded. The trip will take you up to 2.5-3 hours from city center.
If you have an out-road car everything is ok, but if not than the alternatives are just two:
By shuttle
Private car 4×4 whiles with driver are available on request and at any time of the day and night (for an extra charge). You can request a pick up or deliver at te airport of Tirana or Podgorica (in Montenegro) for 100 euro one way, a trip of 3.5-4 hours.
A pick up can be also organized from the border of Hani Hotit for 60 euro one way; from Shkodra city center for 50 euro one way or from the end of the asphalt at 'Qafe e Thores' for 35 euro.
By minivan.
The 13-places minivans are the only everyday transport line for the area, and it happen once a day, starting at 07.30 a.m. from Shkodra city and getting back within the same day leaving Thethi around 13.00 a.m. If you cannot reach this time table the only alternative remaining is the transport with by shuttle service.
Normal cars can easily be parked in safe parking in Shkodra or next to the Bar Restaurant in Qafe e Thores for 2 eur per night.